Pololu Steel L-Bracket for NEMA 23 Stepper Motors
Description
This sturdy black bracket is made from 3mm-thick coated steel and weighs about 160 g (5.7 oz). It is specifically designed to work with the typical faceplate mounting holes of NEMA 23 stepper motors. Two supports are welded in the corner along the bend of the bracket to provide extra reinforcement, and the bracket features two long slots for mounting it to a surface. Four 16 mm M4 screws, four M4 nuts, and four washers are included for securing the motor to the bracket. This bracket and included hardware work with all of the NEMA 23 stepper motors we carry. Different screws might be required when using this bracket with stepper motors from other suppliers.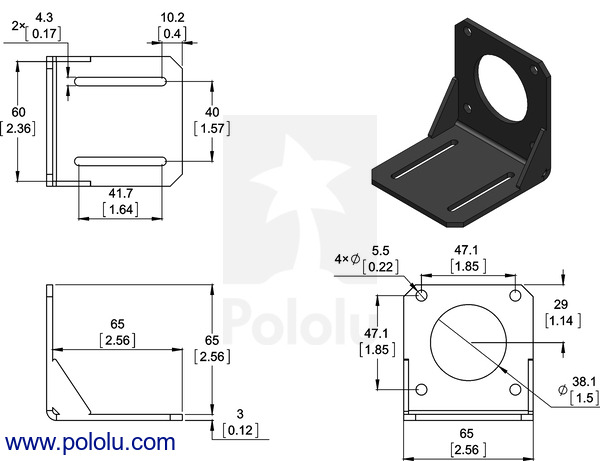 Dimension diagram of steel L-bracket for NEMA 23 stepper motors. Units are mm over [inches].
This drawing is also available as a downloadable PDF (102k pdf).
People often buy this product together with:
---
---
Other customers have also bought the following items