Pololu Wheel 40×7mm Pair - White
Description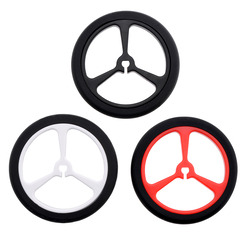 Pololu 40×7mm wheels.
Motor Connections
These wheels are designed to press-fit securely onto the 3mm D output shafts on many of our gearmotors, including our micro metal gearmotors and our mini plastic gearmotors. They also work with our 35:1 and 115:1 15.5D metal gearmotors, as well as with our selection of Solarbotics metal gear motors. They are available in white, red or black.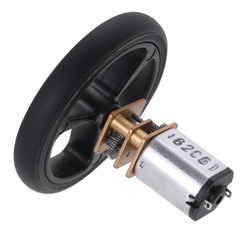 Pololu 40×7mm wheel on a micro metal gearmotor.
Both our micro metal gearmotor bracket and extended micro metal gearmotor bracket work with this wheel.
Specifications
Diameter: 1.57? (40 mm)
Width of tire: 0.26? (6.5 mm)
Weight: 0.15 oz (4.3 g)
Shaft type: 3mm ?D?
We have similar wheels available in different sizes and colors:

Black Pololu wheels with 90, 80, 70, 60, 40, and 32 mm diameters (other colors available).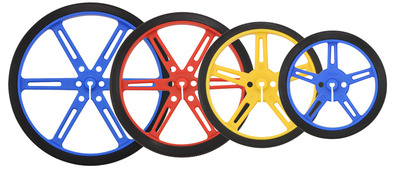 Pololu wheels with 90, 80, 70, and 60mm diameters in three colors: blue, red, and yellow.
People often buy this product together with:
---
---