Pololu 12mm Hex Wheel Adapter for 6mm Shaft, Extended (2-Pack)
Description
Overview
These light-weight aluminum shaft adapters convert a typical motor output shaft into a 12 mm hex shaft that is compatible with many common hobby RC wheels, such as the Dagu Wild Thumper Wheels. The side of each adapter that mounts to the wheel contains a hole tapped for M4 screws, and the other side of the adapter mounts to a motor shaft with two M3 set screws. This set includes a pair of adapters, two 8 mm M4 screws, four M3 set screws, and one 1.5 mm Allen wrench for use with the set screws.
The adapters are available in the following versions:
Details for item #2687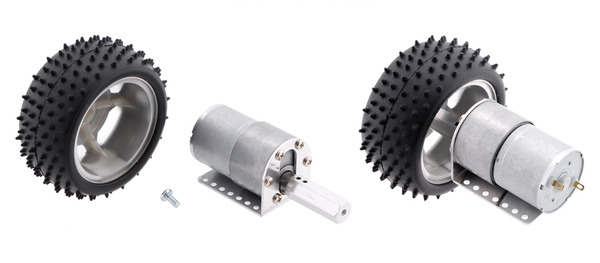 12mm Hex Wheel Adapter for 6mm Shaft (extended) on a 37D mm Metal Gearmotor.
This version of the 12 mm hex adapter is 35 mm in length and designed to work with 6 mm diameter output shafts, including round and ?D? shafts. It works well with our 37D mm metal gearmotors, as shown in the picture above. The wheel shown in the above picture is a hobby RC wheel that works with 12mm hex shafts; we do not currently carry this wheel or any other wheels that are compatible with this adapter.
The diagram below shows the dimensions of this shaft adapter and is also available as a downloadable PDF (112k pdf)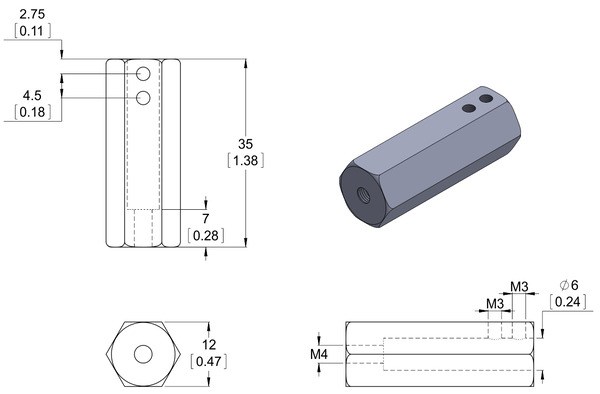 Dimension diagram of the Pololu 12mm Hex Wheel Adapter for 6mm Shaft Extended. Units are mm over [inches].
People often buy this product together with:
---
---